You must plan to have someone drive you home.  Do not plan to use taxis, UBER, or other public transportation.
Our Location: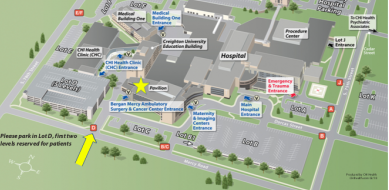 Entrance 'D' off of Mercy Rd. Enter the pavilion using the South entrance; "Henry Lynch Cancer Center" doors. Once inside, take an immediate right. Take elevator 'F' to the 4th floor. Click for a printable map of the site and entrance (PDF)
Our Address:
Bergan Mercy Surgery Center, LLC
7500 Mercy Road # 4300
Omaha, NE 68124
Office hours:
Monday thru Friday, 6 am to 5 pm
Emergencies:
Please call 911 or go to your nearest emergency room.